What – One day outing Picnic from Bangalore, India.
When – Have made multiple visits with friends and family. Try to visit in morning hours, best if you could reach there as it opens between 8-9 AM
Travel –

120Km car ride from Bangalore, just before Mysore

Highlights –

Well maintained, no parking hassles
Best destination for Photographers, Bird lovers

Even if you are not in birding, this is great place to enjoy with family and friends. There is boat ride which takes you to bird nest up close, One get to see crocodiles resting on stones.

Lowlights

Can get really crowded during vacation time
Monsoon – confirm it is open before going. Sometime remains close if dam water is released due to oversupply
Ongoing Mysore road construction may dampen the fun. Confirm road condition before travel.

Suitable Time Period

Can be done throughout the year, not advisable during monsoon.
Be there in morning hours, as early as possible.

Arrangements – Self.
STAR Rating – 4/5 – a must visit place if you have not been there. Reduced a star only because of occasional over crowding.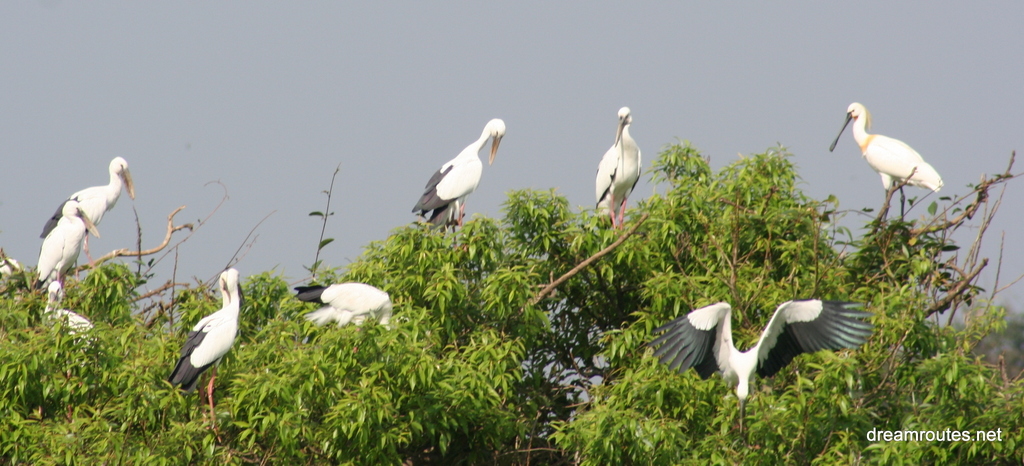 OLD BLOG
This is old blog written in 2008, Reference may have changed or would have become better now.
Ranganathittu Bird sanctuary is ideal place if you are Bird lover. Its breeding ground for lot of Indian as well as migratory bird. This place has already got enough coverage, and I dont think it needs any further introduction. But even if you are not a bird lover and just want hangout with family, its a good place for family picnic as well.
My motivation to visit Rangantithu was to have long drive and also to try out my new DSLR. And I was not disappointed, got amazing shots to make myself happy. Unfortunately, I am not really bird lover or one who would keep track which bird is migrated and which is endangered etc etc…perhaps I would have enjoyed more then. But the camera kept me busy all the time.
Anyway for the sake of completing my blog I thought I would check out at least the names :).
Birds found at Ranganatithu
There are other bird species like Painted Stork, Asian Openbill Stork, Common Spoonbill, Woolly-necked Stork,Black-headed Ibis, White Ibis, Lesser Whistling Duck, Indian Shag, Stork-billed Kingfisher and other common birds like egrets, cormorants, Oriental Darter, and herons. The Great Stone Plover, and River Tern also nest here. The park is home to a large flock of Streak-throated Swallows. Source : Wikipedia
Few Pointer:
Distance:
Its roughly 120 Km from Bangalore, and will take you anywhere from 2.5 to 3.50 hours to reach. On Bangalore -Mysore highway one need to take right turn after Srirangapatnam. Watch out for sign boards roughly 15-20 Km before Mysore.
Food:
One canteen is there where you get regular south Indian dishes. If you are in picnic mood, you can as well get your own food.
Time to Visit:
I heard ideal time for bird watching is August to March. But in general try to visit place early morning or evening. Avoid afternoon hours mainly due to heat, and off course birds too wont leave the nest during this time.
Sanctuary remains open from 8.30 AM to 6.
What to do there?
Boating – If you want to spend some special time Or want to have close bird shots, get personal boat.
Walk/just seat around Kaveri river bed
Places to avoid
After Ranganatithu we unfortunately headed to Balmuri falls. Its dhabba on name "water fall"..Place where I don't know why lot of people gathered for god knows what reason and try to enjoy the pathetic fall…