What – Day outing from Bangalore, India to visit most beautiful water fall and spend time on River beach.
When – Have made multiple visits with friends between 2007-2010. Repeat visit is certainly due.
Travel –

150Km car ride from Bangalore. Take NH7, right from Dharmapuri. There are other routes too, this is best in terms of road condition.

Highlights –

During monsoon even when you cant enter the gorge due to safety reason and high water current, just seeing the fall up-close is worth the travel.
Very beautiful gorge where Kaveri water falls from multiple streams and then culminates on wonderful river beach.
Excellent place to spend time with friends and family for a day long trip

Lowlights

During monsoon, one must check the status of fall. When even dam water is released or when there is continuous rain, this place is close (You are not allowed to enter the gorge). This is rightly so, place can be unsafe during monsoon.
Coracle rides are the start attraction and must do, however avoid during if water current is high. Normal days I think these are more than safe.

Suitable Time Period

One can visit any day if its not a hot summer day, and not raining heavily.

Arrangements – Self.
STAR Rating – 4/5 – Must visit at least once if you are in Bangalore to see the natural beauty of this place.
Old Blog
Hogenekkal is the best picnic spot for a day trip from Bangalore. It is also called Niagara of India. It is one of the best waterfall I have seen in India. Apart from majestic waterfalls, best thing about Hogenekkal is, coracle (small circular boats) ride to right under waterfalls.
Attractions @ Hogenekkal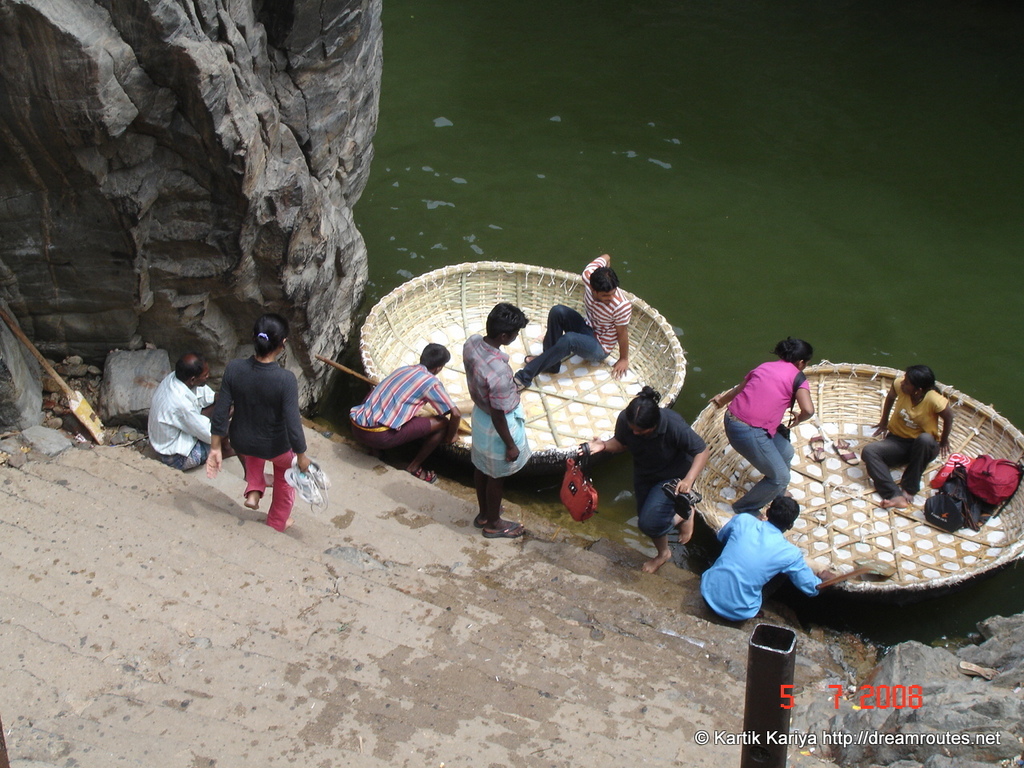 Off-course Beautiful Waterfall : Its not as high as Shivsamudram, but surely more beautiful than any other fall on Kaveri river. Above pictures tell the story 🙂
Coracle Ride : One need to hire a coracle (Small circular boats to get right into the gorge to be able to see majestic Fall. The boatmen can take you really close to the falling water, to make the water splash into you. River here flows through a narrow channel surrounded by rocks on both sides which are carved into strange shapes by the river. The channel looks lovely and the rocks look as if they were carved by an artist!
Ride Costs Around 500 ( 5 people, 2-3 hours, negotiable from 2000 to 400 🙂 ) And ya you dont have to carry snacks all the way, you find innovative retail store right inside the gorge on Coracle boats.
30 ft long Dive : Pay 5-10 bucks to local kids and get a beautiful shot of diving a kid from 30-40 ft into the gorge.
Body massage : This one you should not miss. A little downstream of river, there is beautiful plane where you can lie down and enjoy head massage (50 Rs) and body massage (100 Rs). Just submit yourself to local massages and enjoy their unconventional ways of massaging 🙂
When to Visit:
Best time to visit is during monsoon, but if its raining too much, coracle are not allowed inside, so make some basic enquiries before visiting during monsoon.
In winter too one can visit here, but it can get boring during summer due to hot weather.
How to Go?
It is around 150 Km from Bangalore Easiest route is via Dharmapuri in NH7 and then a right towards Hogenakkal. There is an easier route from Hosur, but the road may not be that good.
Keywords:
(aka Hogenekal, Hogenekkal, Hoganakal, Hoganakal, Hogenakal, Hogennekal, Hogennekal, Hogennakal, Hoggenakal, Hoggenakkal, Hoggenekal, Hoggenekkal, Hogennakkal, Hogennakal)