Key Highlights of the trip:
Travel Dates: Dec 7 – Dec 21, 2007
Route: Nagpur-Kolkatta-NJP-Darjeeling-Gangtok-Lachung-Gangtok-NJP-Bangalore
Expenses: Around 60K/PAX, including air travel (to and from Kolkata), Stay, Food and private Taxies etc. ( Expenses can be lowered if More people visits the place together)
Must Visit Places – Nathula Pass, Zero Point, Yumthang Valley
Most Enjoyable – Hospitality of Sikkim People, Natural beauty, No crowd during Winters
To be careful during winters – Low/Sub-zero Temperature, Very short days (Gets dark at 3, so start day early and enjoy evenings in hotel)
Darjeeling and Sikkim
One of the resort owner in Lachung told us "Sir, yeh jagah Switzerland se bhi khubsurat hain, bas yahan ustarahkin facilities ho jayen to log widesho main jana band kar denge", meaning "This place is even more beautiful than Switzerland, but what it lacks is that kind of infrastructure and facilities. Indeed We found North Sikkim no less than Switzerland.
Other than natural beauty, I must mention about Sikkim, is its people. Their hospitality is really admirable. They are generally calm and happy people and can be trusted easily. I have lot of stories to narrate on this, but I think such things one can judge only by experiencing themselves. My full recommendations to visit this place at least once, may be before the place becomes fully commercialized like Kulu-Manali (Perhaps this is true now in 2022, however still remains better choice than crowded Manali). Generally, peoples perception about these places is that these are unsafe for tourist. However, I didn't felt anything like this in Sikkim. May be that's true for other eastern states like Assam etc, but surely not the area I visited in Sikkim. Anyway here are few details of our Trip to Darjeeling and North Sikkim. We travelled to this place in the Month December. These places are extremely cold during winters, and that's why its a offseason there at that time. However we really enjoyed the cold, and also hassle free traveling because of less crowd.
Darjeeling
We visited Darjeeling first. Here are few FAQs about Darjeeling:
1. How to reach there ??? One can take either flight from Kolkatta to Bagdogra or overnight train to NJP ( New-Jalpaiguri) from Kolkatta. From both these places its 4-5 hours journey to Darjeeling. If you go to NJP, there is option of Toy train to Darjeeling, but this takes too long, 8-10 hours for 80 Km. We opted for this option. Even though the travel is quite scenic, one tends to get bored because of travel time. One can even enjoy the Toy Trian ride from Darjeeling for short duration. Probably this would be better option. By the way, this toy train has its own interesting history, One can read about it in detail here ..
2. Hotels stayed ??? Darjeeling has lot of good hotels. We opted for Shangrila regency because of its good reviews on web and also hassle free booking procedure. We had a good experience there, specially their top floor cafeteria is really good. Also the room they gave was quite specious, and was value for money. We paid around 2200/day that includes breakfast etc. I think not all room are same, so when you do check-in, one need to be little bit careful there, otherwise there are no issues with hotel. One can have a pleasant stay there.
3. Places Visited At Darjeeling ??? Similar to any hill station in India, local guides would list lot of places for sightseeing. I like following three most, that would be my top recommendation too.
i. Sun Rise at Tiger Hill : From Tiger hill one can see the most beautiful sunrise. Only thing is one need to get up at 3 in morning to watch this beautiful view. Also, since we visited place in December, there was extreme cold there on hill. However there are adequate arrangements are there to stand in one glass enclosed building and watch sun coming up through the sea of clouds. If sky is clean, one can also check the Kanchanjenga ranges from Tiger Hill. Its about 15-20 Km from Darjeeling. More you may read here
ii. Rock Garden:
As a concept garden, I liked this place. This garden is made alongside a big waterfall and natural stones are used quite effectively to add to its beauty. Hence the name Rock garden. One can keep climbing up on a path-way almost to the top of waterfall. Of course, for that you need to keep at-least an hour free when you visit this place. Other specialty of this place is the road from Darjeeling to Rock Garden. I have not seen that kind of sharp slopes anywhere else. Since we had hired a small Car, it was looking really dangerous but drives there are expert enough to maneuver these roads, and in the end this too becomes one thrilling experience !!!
iii. Batasia loop and War Memorial:
We visited this place while returning from Tiger hills. This place gives extremely good view when Darjeeling toy train encircles the memorial (Hence the name Batasia loop). From this small hill too one can see the Kanchanjenga peak and also other views are great. Also one can get local traditional draces here and have a Kodak moment !!!There are lot other places to visit here in Darjeeling. I have mentioned only few which i remembered very well. If one is not in hurry, 3-4 days can be spent easily here.
Gangtok:
From Darjeeling we moved on to Gangtok. Its 94 Km from Darjeeling, but may take 4-5 hours. Road is quite scenic, also on the way one can take a break and go for river rafting. ( We did river rafting while returning from Gangtok to NJP ).Initially seeing the Gangtok town, it was dis-appointing. Specially hotel, roads etc are not good as compared to Darjeeling. May be construction on Main MG road there could be reason for our disappointment (2022 – MG Road is now most happening place). For local sightseeing, I felt there are routine places in Gangtok which we avoided. We only visited Ganesh Tok ( Ganesh temple, gives a complete view of Gangtok town ) and Ropeway ( its at walkable distance from MG Road). However, real fun started when we made a one day trip to Nathula pass and 2N3Day trip to Lachung/Yumthang. For both these places one needs to have the permit. (Also, Nathula pass is not opened on all days). However, local tourist centers will take care of this and one just need to provide them photo id proof.
Travel expenses in Gangtok ??? In both these areas only utility vehicles like Mahindra bolero, Sumo etc only are allowed. If one wants to save money, one can opt for shared seat in these. Its almost 10 times cheaper than the private vehicle. We opted for special vehicle for both Nathula and Yumthang trip. It cost us 2500 and 9000 respectively.
Where to stay ??? As I mentioned earlier, I didn't find many good hotels in Gangtok. We opted for Hotel Oriental. They claim that from their hotel room there in Kanchanjenga view, but its not entirely true. May be from top floor suit, one can have glimpse of it. Suit room ( around 2000/day) are good here and Delux one are quite small. However they compensated our disappointment with 20% discount and ya with good breakfast.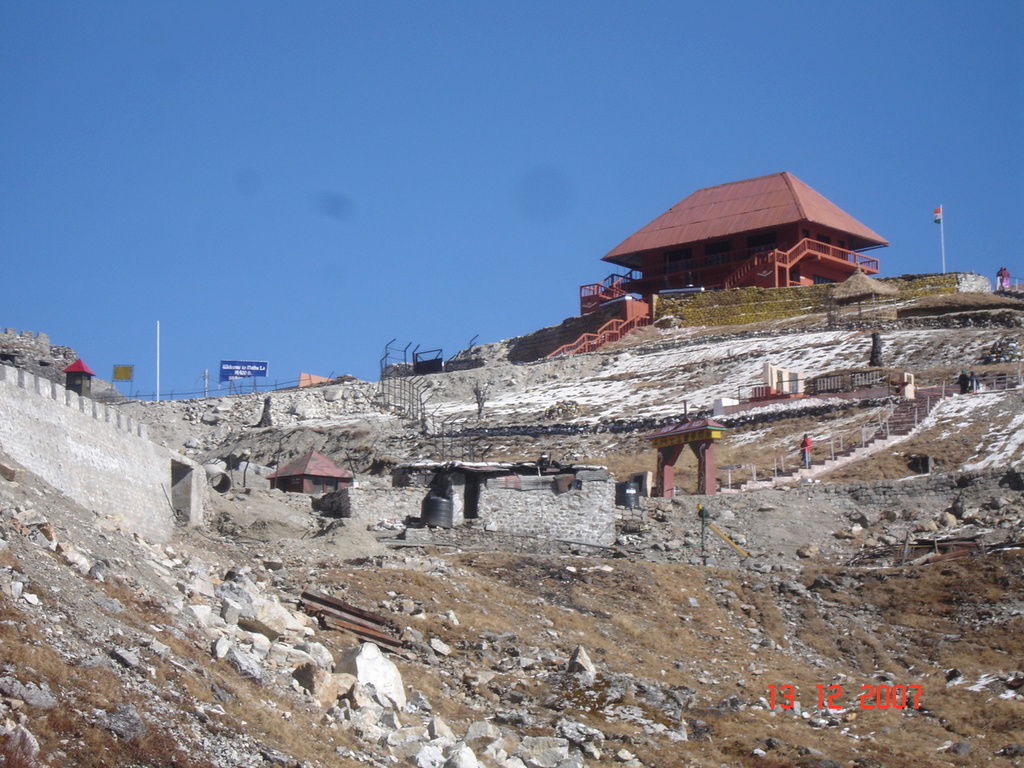 Trip to Nathula Pass: This was a day trip from Gangtok. The local private tourist guys arranges all necessary permits to travel to Nathula Pass. These charges are included in the package they give. It is 55-60 Km away from Gangtok. On the way one can see Changu lake (Must visit ), Baba Budangiri Hill ( Can be avoided)i. Changu lake (Also known as Tsongo Lake):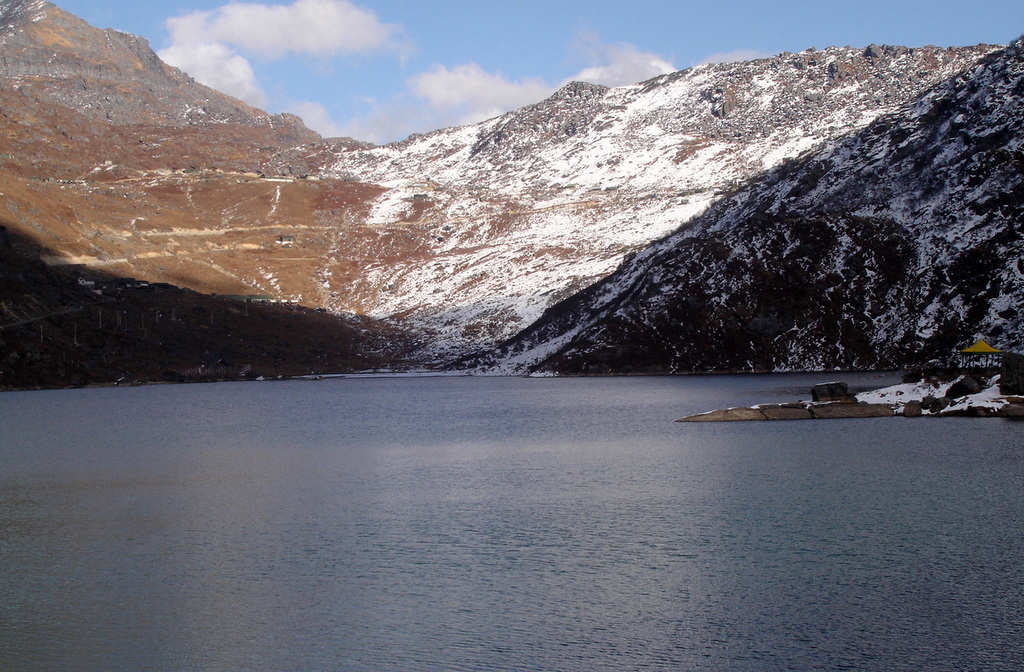 Tsongo Lake (Changu Lake) – This is the most beautiful lake at the height of 12000 ft. At Tibetian stalls besides Lake, one can rent worm cloths to cope up with cold at Nathula border. We even bought good Leather Jackets for both of us. Other than beauty of the place, other star attaction is the Yak Ride. One can go to the other end of the lake either walking or on Yak and enjoy the white snow and icecold water.
Nathula Pass : eautiful Twin lake (Mostly remains frozen thoughout the year) welcomes people to Nathula Pass. It is at hieght of 14200 ft. Nathula Pass is the old trade route between Tibet and India. This pass was close for civilians till recently. (Opened in 2006, after a bilateral agreement between China and India). Here India and China are separated only by a iron fence. One can see the first china post from there.
Indian And Chinese Soldier having a light moment with each other.
Also, there are Indian and Chinese soldiers to greet tourists and give information about the surrounding region.
North Sikkim:
Our next stop was at Lachung. Its almost 150 Km from Gangtok, and ideal time to visit this place is March to June. But we were there in the month of December. At that time there were hardly any vehicle on the way to Lachung, but with no tourist around I feel one can enjoy this place more !! The road to the Lachung is maintain by BRO (Border Road Organization). They have done good work there, but still because of bad terrain, road condition at few places is extremely bad. On the way one can see lot many metal bridges as seen in the picture. We took permit for Yumthang – Zero Point ( 15500 ft) and Gurudogmar (17100 ft). Unfortunately, the Gurudogmar was unreachable because of snow on the roads and also some China trouble at the Gurudogmar border that time.
Useful pointer/information from the trip: -> Lachung is India's last port. We stayed at a Hotel arranged by our driver (Food and stay included in package). We get to see the local hospitality here . Surprisingly, u will get very good homely food here.
-> Here one can enjoy local drink called, "Chang" – made out of brewed millet. Local people say its exteremely good specially in Winter. It gives the much required warmness.
-> From Lachung, 20-25 Km is the beautiful valley call Yumthang. It means valley of flower. Best time to see its beauty is March- June. At that time it is decorated with flowers of each and every colour.-> After Yumthang, another 20-30 Km is Zero Point. This is where the road ends and Tibet border starts. Hence the name Zero Point. This was the highest altitude we gained ( 15500 ft) and of course one feels the extreme cold. Because of low oxygen and cold there, one needs to take all precautions like walking slow, talking less loudly, drinking water etc.
-> During winter, sun sets here at 3PM. Thus giving rest of the time to relax and enjoy the beautiful valley. If one is going to be there during winter, you need to keep extra day or two.